While on his first official visit to Washington as Prime Minister of Lebanon, His Excellency Saad R. Hariri delivered the Inaugural Rafik B. Hariri Lecture at Georgetown University. The early evening event took place on May 25, 2010 at the Rafik B. Hariri Building, the new home of the McDonough School of Business before a diverse audience of diplomats, university officials, professors and students, members of congress and the administration, the Archbishop of Canterbury, Dr. Rowan Williams, and many distinguished guests from the Washington area.
When introducing Prime Minister Hariri, Georgetown President John J. DeGioia directed the audience's attention to a cedar tree sapling which stood on his right, and explained, "As all of you know, it is a symbol of Lebanon, a tree that gives and serves. We plan to plant this cedar on our campus, where it will be seen as a living tribute to the spirit of Rafik Hariri and a growing symbol of the continuing and deepening friendship between the students of this campus and the citizens of Lebanon."
The occasion was a kind of homecoming for the Prime Minister since he had graduated from Georgetown with a degree in International Business in 1992. Recalling his days as a student at Georgetown, Mr. Hariri pointed out the ironic contrast between his original plan to lead a life as far away from politics as possible and his position as leader of a political party and Prime Minister of Lebanon.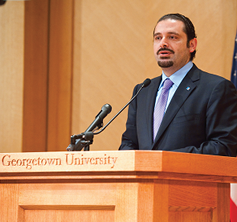 Drawing upon his experience, he advised today's students that, "Things will never go as planned. Trust me."
Mr. Hariri spoke at length of his faith in the people of Lebanon to survive and flourish in a challenging geopolitical environment. Time and again after devastating destruction and loss of life, the Lebanese have shown that their capacity to spring back remained intact, and it was their example, he related, that served as his best teacher while learning the craft of leadership.
Mr. Hariri observed further that despite political division within their country and daunting threats to their welfare from without, the Lebanese people continue to aspire to peace, independence, and freedom as a nation. However, Mr. Hariri noted, their ability to attain these goals would continue to be impacted by regional conflicts and by the failure of the world "to reach a just solution that will put an end to … suffering and tragedy" in the region. This failure can no longer be ignored since it is now "a vital issue for everyone."
In closing, Mr. Hariri emphasized that military and security measures will not solve the long term problems of the Middle East. What it will take, he continued, is the concerted effort of the community of nations to solve "the square root of despair." Unless this is done, he concluded, the problem of terrorism would grow beyond its present level, and the stability and prosperity Lebanon its neighbors desire will continue to elude them.